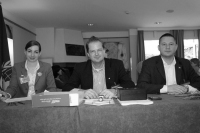 By sending the HISTOMUN registration form you apply
for participation at the conference.
Applications are being accepted on a first come first serve basis until 10 October 2010 (deadline extended for non-visa applications only!). We do expect HISTOMUN 2010 delegate positions filling up before this date and therefore strongly encourage applicants to apply early!
Please be sure that you have read all the other information on the homepage before submitting the registration form.
In addition to the form the UNYSA-AUSTRIA - AFA needs a digital passport photo.
Depending on your qualifications the appointment will take place on a first come, first serve basis. (You should decide on three choices in case the first choice has already been taken.)
After all materials have been submitted to UNYSA-AUSTRIA - AFA you will get confirmation for your committee/country position.
At this point of application process you need to transfer the Conference/Hotel Fees (see button "PAYMENT") to complete your registration.

Please download this registration form (word file),
fill in all the necessary fields,
save the file and send it via e-mail to histomun@afa.at.